Guests books are very important to your wedding day. It gives your guests an opportunity to congratulate you and thank you for inviting them to your special day. While you can go with a traditional guest book you can also create a unique guest book to make a statement. There's so many ideas you can go off of to make your guest book match your theme.
Start your guest book off with a I have loved you since then
I Love You For Your Passion of Travel Guestbook
If you like to travel there are many ideas for you to create your own guestbook. From old atlas', globes, maps, postcards, and many more.
Create your own unique guest book by using a vintage atlas. If you love to travel this is the guest book for you. Your friends and family can sign wherever they would like to. Maybe if you have friends that live all over the world they could sign around where they lived. This guestbook doesn't have to sit in the closet for the next 50 years either. It is a great piece to place around your home and gives you a great memory of your wedding day every time you look at it.
Post cards are a unique and creative way to have your guests sign their memories,congratulations, and thank yous from your wedding day. This idea is perfect for a couple who loves to travel, especially if your wedding is a travelling theme. Write a little note to your guest explaining what to do and pick the box or chest you would like them to place the postcards in. This creative guestbook idea shows your love for travelling and your spouse. The post cards can be of places you have traveled, places you would like to travel too or just random places around the world. There are so many ways to make this guestbook idea unique.
Re-use an old globe and give it a new purpose: a guestbook. By painting a globe you can customize it by painting your names the globes. Now you have a guestbook that is definitely unique but fits your love for travel. Your guests can sign around the bride and grooms names. This guestbook is perfect for displaying in your home after your wedding.
Pictures provided by: Sarah Pierce
Guestbooks to Help Your Remember Your Big Day For a Thousand Years
Remember your big day for a thousand years with these cute and unique wedding guestbook ideas. You can personalize them to fit your needs and desires. Read more to find your perfect guestbook.
Let your guests capture themselves having a blast at your big celebration. Polaroids are a cute and creative guest book idea. Your guests can take a picture of just themselves or a group and write about their experience. This is a great idea and is great to have when you are reflecting back on your wedding.
If you are a big fan of games this is the perfect guestbook idea for you. This guest book will last for ever and is also reusable. Who knows you may even let your future children play with your guestbook someday. You just have to find the Jenga game and then write a little sign explaining what the guests should do.
Pictures provided by: Brides
I Love You Guestbooks
Create your own unique mailbox to show how much you love everyone at your wedding. Your guests can write you letters and then place the into your I love you mailbox. You can even get envelopes that match your wedding colors and have a variety of pens that also match. After the wedding you can store your envelopes in the mailbox. It is a simple but vintage way to have your guest book. This idea also allows for your guests to have more room to write what they want to. This is great for outdoor weddings and you can make it fit your theme.
Picture provided by: Bridal Musings
If you love to do puzzles this is the perfect guestbook for you. Pick any type of puzzle you want to have. Many people choose a heart but you can choose whatever fits your theme and your personalities best. Some people even have a picture of themselves put onto their puzzles. Each guest would sign and write a little note on the puzzle piece. Depending on how many people you have at your wedding depends on how big you should make your puzzle. This is a simple and easy way to create a unique guest book that will last for a thousand years.
Picture provided by: Wedding invitation Ideas
Create a wooden heart made out of small stumps. This is a cute and earthy idea to use as your guestbook. If you are having an outdoor wedding or even an indoor wedding this is the perfect guestbook to put into your home after your wedding. It is a beautiful piece of artwork and is also a reminder of all the people you spent your special day with. Just write a sign next to or on the table where your wood art guestbook is and tell your guests to pick a piece of wood to sign. This is a creative and easy way to create your guestbook and make it match your wedding theme.
Picture provided by: Pinterest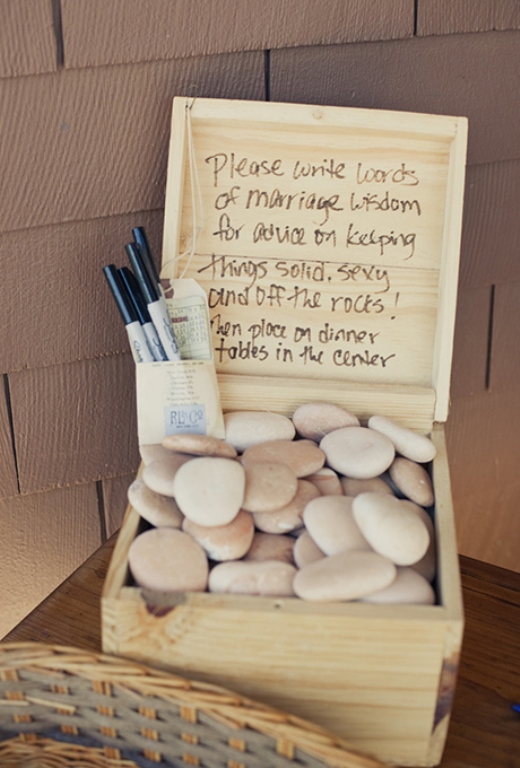 Stones are a simple and inexpensive guestbook idea. They can symbolize the rock of your relationship with your new spouse. Your guests can write advice, memories, sign, and write a thank you on each of the stones. Sharpie markers work well with this. You can pick out anything you would like to store them in. Usually people choose a chest, box, or fish bowl to put them in if you need any ideas. Also, know how many people you have so you can prepare the rocks and have a big enough container for them all. Also, they are great to display at your house. This guestbook idea is great for outdoor and indoor weddings with more of an earthy theme.
I Have Loved You Since The Day We Met
Picture provided by: Pinterest
This idea is simple and easy to do. If you want to have a guestbook that reflects your spouse and you this is the one for you. It has the ability to show images of you and your significant other during all of your journeys and adventures. You can show how you have loved each other since the day you guys met. It is a great way to portray your relationship in its entirety. This Photo book is easily made or you can make your own online.
Picture provided by: Pinterest
If you met at the beach or maybe at the park a chair may be the perfect guestbook for you. It is a simple way to have a symbol of how you fell in love. Also, after the wedding you have something practical to use at your house or at the beach. Just have your guests sign a little note and their names on the chair. Sharpie permanent marker is probably the best marker to use. When you are picking out the chair consider the color scheme of your wedding and the decor of your house if you are planning to use it afterwards. Also, consider color schemes for the sharpie markers also. This is a unique and inexpensive guestbook idea that would look great at anyones wedding. It is also great because it is reusable.
Picture provided by: Pinterest
If you have a love for sports that you and your future spouse both share maybe you are not traditional guestbook people. Instead you might appreciate a guestbook that represents your love for each other and sports. Maybe you met at a sporting event or the connection of a certain sport is how you fell in love. Whatever the case having your guests sign a basketball, baseball bat, footballs and volleyballs is a clever way to show your love for sports. This way you can display your guestbook around your house after the wedding. Plus your future spouse may enjoy having sports incorporated into your wedding if it such a big part of your lives.
Picture provided by: Pinterest
Canvas's are a beautiful way to display an image of you and your significant other. Whether you use an old picture of you and your future spouse or if you have someone paint a picture that represents you onto the canvas. This is a great guestbook idea if you love photography, want something to hang on your wall at home, or you love to paint. Have your guest sign their names with markers on the canvas. If you don't want them to sign where the picture is then you can write them a little sign to tell them differently.
Guestbooks are such a personable item at your wedding. Make yours special by showing your personality and wedding theme through your guestbook. Choose one that you will remember forever and will remind you of your big day. Whether you lock in the attic for the next 20 years, or if you display your guestbook in your home. Whatever you decide make sure you are happy with it.